ProCo Rat 2 Distortion
Click to request to view this item at our Lincoln Avenue showroom

Description & Specs
Do you straddle the fine line between the traditional guitarist and the constant innovator? Are you just as comfortable laying back in the pocket as you are taking a solo with a foot up on the monitor? If this sounds like you, The RAT 2 will be your go-to distortion pedal for every gig, whether it's rock, blues, punk, or jazz.
This is the classic RAT tone. The standard that all other distortion devices are measured against. Heard on thousands of recordings, it has helped define the sound of the past three decade's most influential bands.
The beauty of the RAT 2 lies in its versatility. Used as a primary distortion, it excels at arena rock rhythm tones and soaring leads. Do you have a powerful amp with too much headroom for the gig? The RAT 2 nails that sweet spot where a tube amp goes from sparkly clean to warm overdrive. Maybe you already love your amp's distortion. Use the RAT 2 as a boost for solos and get the extra kick you need.
The RAT 2 features the legendary the legendary RAT Filter control. Turn it to the right to roll off brittle high-end frequencies. Having trouble cutting through the mix? Turn the Filter down and allow the natural brightness of your instrument to shine through. The Distortion and Volume controls dial in the perfect amount of gain while keeping the level consistent with your clean tone. While there's no mistaking the legendary RAT tone when the pedal is on, true bypass switching guarantees that no extra noise will creep into your signal when it's turned off.
Features:
100% analog signal path
Pro Co's classic, virtually indestructible steel enclosure
Heavy-duty, industrial footswitches, knobs, and jacks
On/Off LED indicator
Sloped face for easy stomping
Glow in the dark graphics
Military-spec glass-epoxy circuit board
AC jack (RPS-1 power supply sold separately)
"No tools required" battery compartment (9 volt not included)
Two year limited warranty
Customer Reviews
Write a Review
Ask a Question
02/26/2022
Jerry M.

United States
I recommend this product
No power cord
Not good. No power cord comes with this item and I cannot find anyone that sells the power cord. Makes a nice paper weight though.
09/18/2021
Eric D.

United States
I recommend this product
Great pedal
The ProCo RAT 2 is built like an M1 Abrams Tank and the spitting, growl it produces sounds like turbine engine that powers them. Great Distortion tone that goes from light, gritty undertones to all out tonal destruction (a good thing). The circuit is unique, the Filter knob almost adds a Fuzz sweep through its range adding even more versatility. I can't recommend it enough. The ProCo RAT sounds amazing, is built incredibly well and is an awesome value.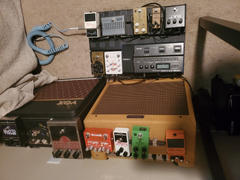 You read that right! Any orders over $49 ship for free!*
The CME Difference:  CME's mission is to make sure your shipment will arrive quickly, carefully, and correctly. We realize that the online ordering of guitars and instruments, in general, can be a nerve-racking experience. We are here to put your mind at ease and make your transaction smooth and enjoyable! As musicians ourselves, we want to make sure everything gets to you the way it should, every time.

Most orders ship the same or next day:  We greatly appreciate your patience, and are working hard to fulfill all requests as quickly as possible, while practicing recommended safety guidelines.

Our Bottom line: We care! This is something we take very seriously, because it's what you deserve. Our shipping, sales, and customer service teams are always striving to create the best experience for you. If you have any questions, comments, or concerns, we want to know.

Please don't hesitate to reach out to support@chicagomusicexchange.com, or call us directly at 773-525-7773.

*Special exceptions do apply.
STORE HOURS (CST)

CLOSED Mon

day
12PM-7PM Tues-Friday

10AM-7PM Saturday

11AM-5PM Sunday

Before & After Hours: Try us! 
If we are not available, our commitment is to get back to you no later than the next day.


Fax: 773-525-2775


LOCATION 

3316 N Lincoln Avenue Chicago, IL 60657


We're right off the CTA Brown Line 'Paulina' Stop Just North of Belmont and just West of Ashland.
We're all musicians here at Chicago Music Exchange and we want you to love the gear you get from us. We understand that sometimes you get a piece of gear that doesn't work out for you. That's why we offer an easy return policy to take the stress out of purchasing from us.

If you decide you'd like to return an item, please contact your Sales Rep, chat us, or give us a call.

If you placed your order on Amazon or eBay, we advise issuing the return request from your account on the platform of purchase - our Customer Service team will process a refund upon receipt of the item(s).

Most new items may be returned within 30 days of delivery and most vintage & used items may be returned within 3 days of delivery for a full refund, exchange, or store credit. Please pack the product safely for the journey back to us. If the product was shipped for free, the charge will be deducted from refund, unless the reason for the return is outside normal circumstances.

Please contact us as soon as possible if your order was received incorrectly, damaged, or defective. Most times we will give you an RA number (Return Authorization). Why is that number important? This will allow us to speed up the process of the return.

We reserve the right to charge a restocking fee based on the return condition. Some items we just can't take back for returns, due to a one time function like strings or drums heads and other times it's not sanitary to do so with microphones or harmonicas. If you aren't sure if what you bought falls into a category like this, call us (773) 525-7773!

We strive to get your return processed quickly. Most of the time we have it done within two business days. Funds going back to credit cards usually takes two to four business days. CME strives to make sure all customers are happy with their experience. It is our priority to provide great service along with great gear. We always want to be helpful, and open to your feedback. Please let us know your thoughts! If you have any questions, we're here for you!

Feel free to email us at customerservice@chicagomusicexchange.com or give us a call at (773) 525-7773.