Boss RC-505 MKII Tabletop Loop Station
SHIPS FROM WAREHOUSE
To request to view this item at our Lincoln Avenue showroom call or chat us now
Description & Specs
Packed with inspiring tools for on-the-spot music creation, the RC-505mkII brings next-generation power and flexibility to the world's most popular tabletop looper. Elevate your performances with five stereo tracks and four simultaneous Input FX and Track FX, and soar even further with customizable buttons, expanded I/O, increased mixing control, and other enhancements requested by longtime RC-505 users. Built for free-flowing expression on stage and in the studio, the RC-505mkII is a dream machine for beatboxers, vocalists, multi-instrumentalists, and other fearless looping artists.
The industry-standard tabletop looper, updated and enhanced
Class-leading sound quality with 32-bit AD/DA and 32-bit floating-point processing 
Five simultaneous stereo phrase tracks with dedicated controls and independent volume faders
Input FX and Track FX sections, each with four simultaneous effects and four quick-access banks 
Customizable FX and Track buttons for each phrase track
Massive onboard effects selection with 49 Input FX types and 53 Track FX types, including new Harmony, Electric FX, and many others 
New ultra-durable faders with longer throw for more precise adjustment
Newly added Mark Back function provides enhanced undo/redo flexibility while performing
Two XLR mic inputs with phantom power, two stereo line input pairs, and three stereo line output pairs
99 memories, each containing five phrase tracks, custom effects and playback settings, control assignments, and more
Synchronize your loops with over 200 onboard rhythm patterns and 16 drum kits
Deep MIDI control support
Two external control jacks, each with support for up to two footswitches or an expression pedal 
USB for data backup, phrase import/export with BOSS Tone Studio, and pattern import with the RC Rhythm Converter
Customer Reviews
Write a Review
Ask a Question
01/14/2022
Dennis R.

United States
I recommend this product
Premium Loop Station for Live Performance
The Boss RC-505 is nothing less than an integral piece of equipment for amateur to professional live musicians. The station is ready to use out of the box, user friendly and extremely responsive. I run a Yamaha P-90 to the RC-505 with a Roland KC-350 as my output. The RC-505 has a decent number of internal effects but doesn't limit your creativity with live sounds. Excellent.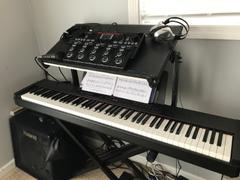 01/02/2022
Jesus R.

United States
I recommend this product
Str8 Fire
You guyz are the best!!
You read that right! Any orders over $30 ship for free!*
The CME Difference:  CME's mission is to make sure your shipment will arrive quickly, carefully, and correctly. We realize that the online ordering of guitars and instruments, in general, can be a nerve-racking experience. We are here to put your mind at ease and make your transaction smooth and enjoyable! As musicians ourselves, we want to make sure everything gets to you the way it should, every time.

Most orders ship the same or next day:  We greatly appreciate your patience, and are working hard to fulfill all requests as quickly as possible, while practicing recommended safety guidelines.

Our Bottom line: We care! This is something we take very seriously, because it's what you deserve. Our shipping, sales, and customer service teams are always striving to create the best experience for you. If you have any questions, comments, or concerns, we want to know.

Please don't hesitate to reach out to support@chicagomusicexchange.com, or call us directly at 773-525-7773.

*Special exceptions do apply.
STORE HOURS (CST)

CLOSED Mon

day
12PM-7PM Tues-Friday

10AM-7PM Saturday

11AM-5PM Sunday

Before & After Hours: Try us! 
If we are not available, our commitment is to get back to you no later than the next day.


Fax: 773-525-2775


LOCATION 

3316 N Lincoln Avenue Chicago, IL 60657


We're right off the CTA Brown Line 'Paulina' Stop Just North of Belmont and just West of Ashland.
We're all musicians here at Chicago Music Exchange and we want you to love the gear you get from us. We understand that sometimes you get a piece of gear that doesn't work out for you. That's why we offer an easy return policy to take the stress out of purchasing from us.

If you decide you'd like to return an item, please contact your Sales Rep, chat us, or give us a call.

If you placed your order on Amazon or eBay, we advise issuing the return request from your account on the platform of purchase - our Customer Service team will process a refund upon receipt of the item(s).

Most new items may be returned within 30 days of delivery and most vintage & used items may be returned within 3 days of delivery for a full refund, exchange, or store credit. Please pack the product safely for the journey back to us. If the product was shipped for free, the charge will be deducted from refund, unless the reason for the return is outside normal circumstances.

Please contact us as soon as possible if your order was received incorrectly, damaged, or defective. Most times we will give you an RA number (Return Authorization). Why is that number important? This will allow us to speed up the process of the return.

We reserve the right to charge a restocking fee based on the return condition. Some items we just can't take back for returns, due to a one time function like strings or drums heads and other times it's not sanitary to do so with microphones or harmonicas. If you aren't sure if what you bought falls into a category like this, call us (773) 525-7773!

We strive to get your return processed quickly. Most of the time we have it done within two business days. Funds going back to credit cards usually takes two to four business days. CME strives to make sure all customers are happy with their experience. It is our priority to provide great service along with great gear. We always want to be helpful, and open to your feedback. Please let us know your thoughts! If you have any questions, we're here for you!

Feel free to email us at customerservice@chicagomusicexchange.com or give us a call at (773) 525-7773.