Victory VX100 The Super Kraken 100W Head
100-Watt EL34 / 6CA7 / KT77 Tube Electric Guitar Amplifier Head. Made in the UK.
Description & Specs
From Victory:
VX100 The Super Kraken is evolved from the award winning Compact Series VX The Kraken, developed with Rabea Massaad
​
The Kraken has morphed into an even more powerful beast via 100 massive watts of EL34 power. You still get the Brit-inspired Gain I channel. You still get the colossal smack of Gain II's US grind… but now there's a whole new footswitchable clean mode, plus a footswitchable Preamp Focus function to add a little juice and cut to any and all modes. There's also a preset Bass Focus option in the power section, footswitchable FX loop, assignable/ footswitchable dual master volumes… plus a useful 30-watt low-power mode for when you don't need to blow the roof off. And, of course, MIDI switching capability.
Gain I Crunch… and Clean!
VX100's clean mode is entirely new, allowing sparkling clean tones with superb headroom. Footswitch to crunch mode, and you're rocking hot-rodded British gain tones. Switch in the Preamp Focus to boost, tighten and punch through.
Gain II
The Gain II channel picks up from where Gain I leaves off. There's extra overdrive as you'd expect, but also a tighter bottom-end response and a more focussed midrange character, for a more American flavour in your riffs. Yes, it Djents if you want.
Preamp Focus
This preset footswitchable boost adds a little gain while also tightening up the bottom end and pushing mids. It's akin to what a clean-sounding TS-type pedal would do. It works in all three modes: Clean, Gain I and Gain II.
Power Amp Bass Focus
This preset footswitchable function affects the negative feedback in the power section. One setting delivers looser bass response with plenty of vintage-style resonance. The other setting is tighter and more focussed in the bottom end.
​
Dual Master Volumes
You can configure these to change with the channels (Gain I/Master I and Gain II/Master II) or have them independently footswitchable for two separate master volume levels whenever you want.
Low Power Mode
Select between 30 watts low power or 100 watts high power. Both are plenty loud, but the feel and dynamics are different.
Traditional Footswitching…
There are six footswitchable functions in VX100: Gain I/GainII, Clean/Crunch modes, Preamp Focus, Power Amp Focus, Master Volumes and the FX Loop… Two dual-button footswitches come with the amp as standard – see below.
MIDI Control
All six of the functions mentioned left are MIDI switchable with a compatible MIDI controller. That means you can pre-program multiple function changes to happen at once… along with all your other MIDI compatible devices, should you so desire. 
​1 x Dual Latching Footswitch for GAIN I/II and MASTER I/II
1 x Dual Latching Footswitch for Preamp Bass Focus and Crunch
Slip cover included
Format:
Two-channel/three-mode all-valve head
Power:
High power: 100 Watts. Low Power: 30 Watts
Valves:
4 x ECC83, (12AX7), 4 x EL34
Size (mm):
480(w) x 235(h) x 235(d) including handle and feet (unboxed)
Weight:
12.5kg / 27.5lbs Unboxed. 16kg / 35.2lbs Boxed.
Customer Reviews
Write a Review
Ask a Question
09/30/2021
R. Torres

United States
I recommend this product
Monster of an amp. Packs a mean punch. Super high gain and beautiful clean in a small box.
It's a compact 100 watt tube amp. Offers British style tones and with a flick of the switch can go straight into high gain American territory. The Brit channel reminds of the grit you get from a Marshall but with a hint of the polished glossy sound and feel of a Friedman. You can't go wrong with the high gain channel either. It's a ridiculous amount of gain. The amp is not designed for the bedroom player as even the lowest volume setting will be excessively loud.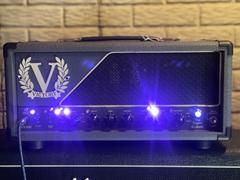 You read that right! Any orders over $49 ship for free!*
The CME Difference:  CME's mission is to make sure your shipment will arrive quickly, carefully, and correctly. We realize that the online ordering of guitars and instruments, in general, can be a nerve-racking experience. We are here to put your mind at ease and make your transaction smooth and enjoyable! As musicians ourselves, we want to make sure everything gets to you the way it should, every time.

Most orders ship the same or next day:  We greatly appreciate your patience, and are working hard to fulfill all requests as quickly as possible, while practicing recommended safety guidelines.

Our Bottom line: We care! This is something we take very seriously, because it's what you deserve. Our shipping, sales, and customer service teams are always striving to create the best experience for you. If you have any questions, comments, or concerns, we want to know.

Please don't hesitate to reach out to support@chicagomusicexchange.com, or call us directly at 773-525-7773.

*Special exceptions do apply.
STORE HOURS (CST)

CLOSED Mon

day
12PM-7PM Tues-Friday

10AM-7PM Saturday

11AM-5PM Sunday

Before & After Hours: Try us! 
If we are not available, our commitment is to get back to you no later than the next day.


Fax: 773-525-2775


LOCATION 

3316 N Lincoln Avenue Chicago, IL 60657


We're right off the CTA Brown Line 'Paulina' Stop Just North of Belmont and just West of Ashland.
We're all musicians here at Chicago Music Exchange and we want you to love the gear you get from us. We understand that sometimes you get a piece of gear that doesn't work out for you. That's why we offer an easy return policy to take the stress out of purchasing from us.

If you decide you'd like to return an item, please contact your Sales Rep, chat us, or give us a call.

If you placed your order on Amazon or eBay, we advise issuing the return request from your account on the platform of purchase - our Customer Service team will process a refund upon receipt of the item(s).

Most new items may be returned within 30 days of delivery and most vintage & used items may be returned within 3 days of delivery for a full refund, exchange, or store credit. Please pack the product safely for the journey back to us. If the product was shipped for free, the charge will be deducted from refund, unless the reason for the return is outside normal circumstances.

Please contact us as soon as possible if your order was received incorrectly, damaged, or defective. Most times we will give you an RA number (Return Authorization). Why is that number important? This will allow us to speed up the process of the return.

We reserve the right to charge a restocking fee based on the return condition. Some items we just can't take back for returns, due to a one time function like strings or drums heads and other times it's not sanitary to do so with microphones or harmonicas. If you aren't sure if what you bought falls into a category like this, call us (773) 525-7773!

We strive to get your return processed quickly. Most of the time we have it done within two business days. Funds going back to credit cards usually takes two to four business days. CME strives to make sure all customers are happy with their experience. It is our priority to provide great service along with great gear. We always want to be helpful, and open to your feedback. Please let us know your thoughts! If you have any questions, we're here for you!

Feel free to email us at customerservice@chicagomusicexchange.com or give us a call at (773) 525-7773.