Weber Vintage Series 10F150T Ceramic Magnet Speaker 10" 8ohm 25W Light Dope
Description & Specs
From Weber:

For mid 60's amps using ceramic 10's where a bright, articulate tone is desired. Replaces Chicago Jensen C10Q, Oxford ceramic 10, CTS ceramic 10. Our most popular replacement for Princetons and Princeton Reverbs.

10", 40oz ceramic magnet, 25 or 50 watt, 1-1/2" voice coil, seamed, ribbed cone. Loud, big bottom, clear, aggressive highs, later/smooth breakup.

Weight: 7.6 lbs
Diameter: 10.19"
Depth: 4.375"
Cutout size: 8.75"
Customer Reviews
Write a Review
Ask a Question
01/30/2022
Danny

United States
I recommend this product
If you gig with a Princeton, this is the one
There are a lot of great speakers out there these days, as well as exhaustive information online, but good news - if you have a Princeton, reissue or old, and intend to play it out, stop your search - this is the one. Weber's take on the rare-but-coveted Jensen C10N is a modern-day classic for good reason - it just works. I have the 12F150T in a silverface era Deluxe Reverb, and it transformed the amp, so when I picked up a '75 Princeton (non-reverb) that came with a Jensen reissue C10R, I didn't really think twice about ordering the 10F150T for the smaller amp. For those who aren't familiar, the non-reverb Princeton has less overall gain in the circuit than its more common cousin, so volume 7-8 on the non-verb feels like 3-4 on a Princeton Reverb. I do like inefficient speakers for recording, but with the Jensen, you could have the amp on 10 and talk over it - this wasn't going to cut it, especially with the scooped mids the Jensens are known for. Once again, the Weber transformed the amp. It's LOUD, responsive and soulful. There's plenty of vintage Jensen-like sizzle, but the low mids are a little more present which gives the amp some cut. On stage, it's gonna sound like a classic Jensen except people will actually be able to hear you. Pushed a little with a clean boost, the amp can get into some great Chuck Prophet or Mike Campbell-esque drive that the speaker handles with aplomb. For a home amp, the volume increase might be a bit much, but for someone who plays out, this speaker is a no-brainer. It transforms a cool funky little "student" amp into a useful, versatile tool that's more than enough for the stage.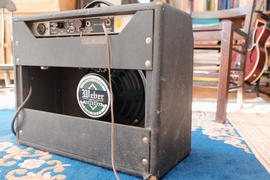 You read that right! Any orders over $30 ship for free!*
The CME Difference:  CME's mission is to make sure your shipment will arrive quickly, carefully, and correctly. We realize that the online ordering of guitars and instruments, in general, can be a nerve-racking experience. We are here to put your mind at ease and make your transaction smooth and enjoyable! As musicians ourselves, we want to make sure everything gets to you the way it should, every time.

Most orders ship the same or next day:  We greatly appreciate your patience, and are working hard to fulfill all requests as quickly as possible, while practicing recommended safety guidelines.

Our Bottom line: We care! This is something we take very seriously, because it's what you deserve. Our shipping, sales, and customer service teams are always striving to create the best experience for you. If you have any questions, comments, or concerns, we want to know.

Please don't hesitate to reach out to support@chicagomusicexchange.com, or call us directly at 773-525-7773.

*Special exceptions do apply.
STORE HOURS (CST)

CLOSED Mon

day
12PM-7PM Tues-Friday

10AM-7PM Saturday

11AM-5PM Sunday

Before & After Hours: Try us! 
If we are not available, our commitment is to get back to you no later than the next day.


Fax: 773-525-2775


LOCATION 

3316 N Lincoln Avenue Chicago, IL 60657


We're right off the CTA Brown Line 'Paulina' Stop Just North of Belmont and just West of Ashland.
We're all musicians here at Chicago Music Exchange and we want you to love the gear you get from us. We understand that sometimes you get a piece of gear that doesn't work out for you. That's why we offer an easy return policy to take the stress out of purchasing from us.

If you decide you'd like to return an item, please contact your Sales Rep, chat us, or give us a call.

If you placed your order on Amazon or eBay, we advise issuing the return request from your account on the platform of purchase - our Customer Service team will process a refund upon receipt of the item(s).

Most new items may be returned within 30 days of delivery and most vintage & used items may be returned within 3 days of delivery for a full refund, exchange, or store credit. Please pack the product safely for the journey back to us. If the product was shipped for free, the charge will be deducted from refund, unless the reason for the return is outside normal circumstances.

Please contact us as soon as possible if your order was received incorrectly, damaged, or defective. Most times we will give you an RA number (Return Authorization). Why is that number important? This will allow us to speed up the process of the return.

We reserve the right to charge a restocking fee based on the return condition. Some items we just can't take back for returns, due to a one time function like strings or drums heads and other times it's not sanitary to do so with microphones or harmonicas. If you aren't sure if what you bought falls into a category like this, call us (773) 525-7773!

We strive to get your return processed quickly. Most of the time we have it done within two business days. Funds going back to credit cards usually takes two to four business days. CME strives to make sure all customers are happy with their experience. It is our priority to provide great service along with great gear. We always want to be helpful, and open to your feedback. Please let us know your thoughts! If you have any questions, we're here for you!

Feel free to email us at customerservice@chicagomusicexchange.com or give us a call at (773) 525-7773.